SSD Solid State Drive Hammer Mills will shred SSD's, memory cards, thumb drives, circuit boards, and other solid state drive devices to 2mm, 4mm or 6mm particles depending on the model. This dual stage destruction system utilizes a 2 HP pre-shredder with 3/8″ cutters that discharges into a 3 HP hammer mill. SSD Solid State Drive Hammer Mills shred up to forty SSD's an hour and include a sound absorbing lining that results in an 85-decibel noise level, on average.
All models include a dual filtration HEPA cyclone dust collector and an infeed conveyor. SSD Solid State Drive Hammer Mills require three-phase power and are available in different screen sizes. Our solid state drive hammer mills can be stationary or placed in trucks for mobile solid state drive shredding.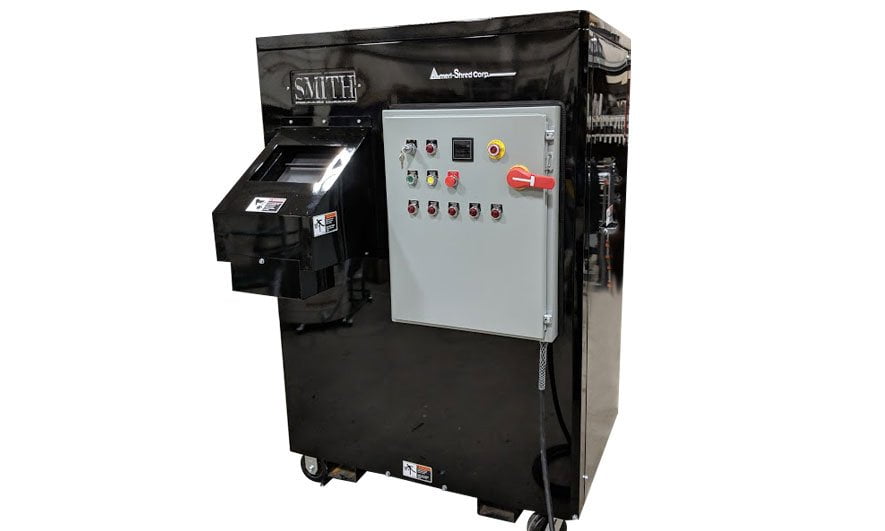 Need help selecting which of our Hammer Mills best meets your needs?
Hammer Mill Specifications:
(Tap the model number for more information.)
| Model # | Power Requirements in Voltage | HP | Pre-Shredder HP | Solid State Drive/Hour | Infeed Dimensions | Machine Dimensions | Weight | Downloadable Specs |
| --- | --- | --- | --- | --- | --- | --- | --- | --- |
| 2mm-SSD | 3 Phase 208V, 230V, 460V | 3 | 2 | 20 | 8 1/2"W x 1 1/2"H | 61"W x 58"L x 71"H | 3,700 lbs. | |
| 4mm-SSD | 3 Phase 208V, 230V, 460V | 3 | 2 | 30 | 8 1/2"W x 1 1/2"H | 61"W x 58"L x 71"H | 3,700 lbs. | |
| 6mm-SSD | 3 Phase 208V, 230V, 460V | 3 | 2 | 40 | 8 1/2"W x 1 1/2"H | 61"W x 58"L x 71"H | 3,700 lbs. | |