Kobra SSD High Security Disintegrator
Kobra SSD is a Solid State Drive shredder capable of destroying solid state drives, smartphones, memory sticks, iPads, USB memory devices, pen drives, tablets, circuit boards, credit cards and ID cards with embedded electronic chip and/or magnetic media, CDs/DVDs, flash memory IC chips, CPU chips with internal ROM and/or flash memory equipped with an exclusive two stage destruction system.
Kobra SSD-HS has been approved by NSA and meets the requirements of NSA/CSS Specifications for Solid State Devices Destruction.
Kobra SSD is equipped with an integrated internal state-of-the-art HEPA air filtration system to insure a clean, safe and comfortable operating environment.
Easy access 9" x 1" feed port is designed with a safety brush covering the complete opening for safety and ease of feed operation. Lockable feed hopper cover prevents unauthorized access to the contents of the hopper once material is fed into the machine.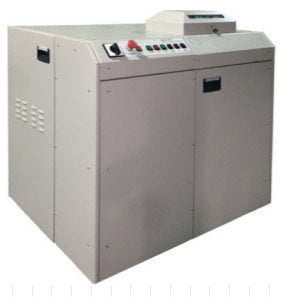 Need help selecting which of our data destruction devices best meet your needs?
Kobra SSD High Security Disintegrator
(Tap the model number for more information.)