Degauss & Destroy Workstations
Simplify degaussing and destruction by creating a secure, self-contained workstation. Our secure workstation packages let you select and combine the equipment that meets your security requirements and puts everything operators need at their fingertips. Each of our workstation options includes a solidly constructed aluminum and wood-laminate table that is strong, light, and easy to clean. Workstation packages also come with colored media bins to sort and hold media awaiting degaussing or destruction, and a recycle bin for depositing destroyed media.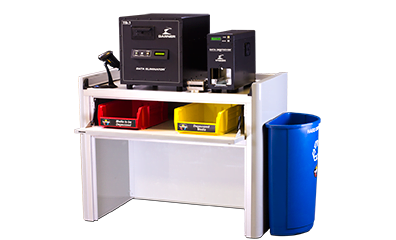 Need help selecting which of our Drive Degaussers best meets your needs or looking for a quote?
Drive Degausser Workstations: